Here are some Inspirational Wednesday Quotes, Wishes, and Messages to make you or your loved ones feel inspired and motivated.
Inspirational Wednesday Quotes: Wednesday, also referred to as "hump day," is a day that is halfway through the week. It is that time of the week when people are looking forward to the weekend, but it's still a long way away, and they are trying to stay inspired. And once you get over the "hump" of Wednesday, then the journey through the rest of the week will be much easier.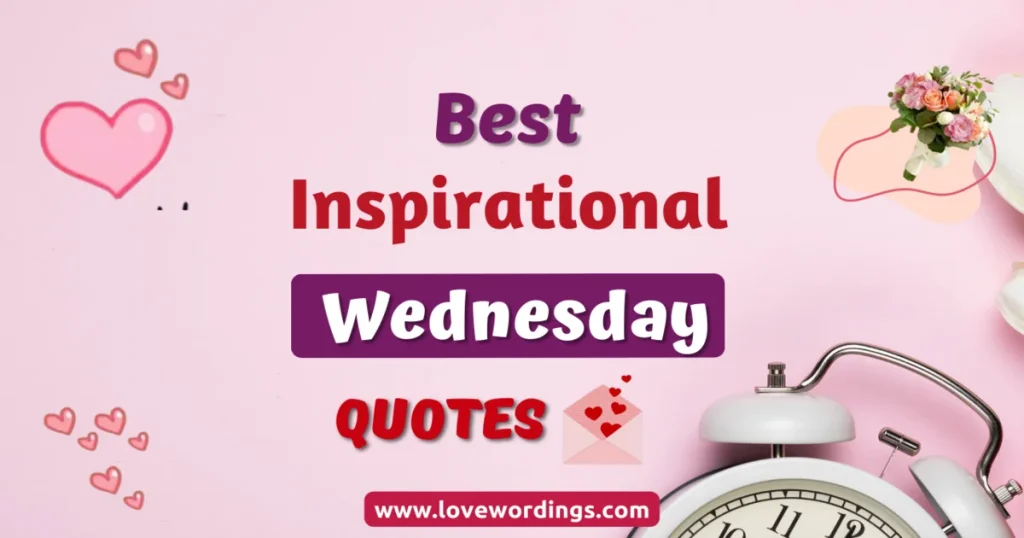 Here are some good inspirational Wednesday quotes and wishes to help you or your loved ones get inspired.
Inspirational Wednesday Quotes
❤️ It's Wednesday! I'm taking deep breaths. I'm in good health. I consider myself extremely fortunate. I'm thankful for today.
❤️ When one door of happiness closes, another one opens. However, we often spend so much time looking at the closed door that we miss the one that has been opened for us.
❤️ Always remember that your attitude will influence your effectiveness more than anything else.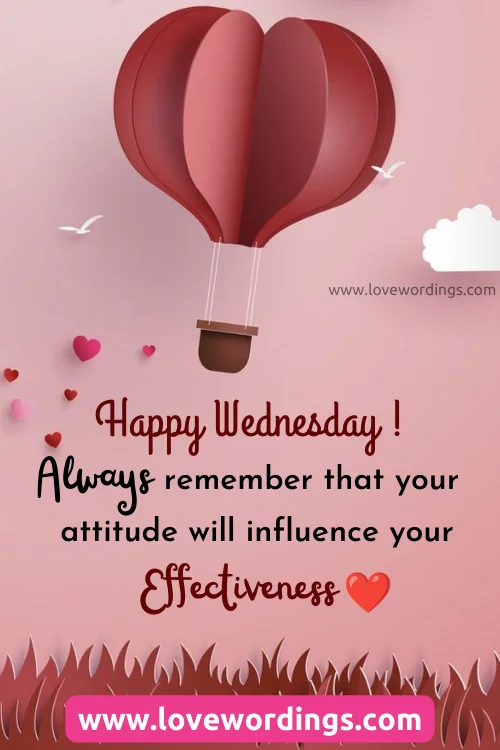 ❤️ I never imagined myself being successful. I worked hard for it.
❤️ Things aren't always easy, but you just have to keep going and don't get bogged down by minor problems.
❤️ In life, a challenge only becomes an obstacle when you give in to it.
Read Also: 99+ Inspirational Good Morning, Happy Wednesday Quotes
❤️ To some, today is Hump Day. To us, Wednesday is getting kicked in the nuts, and Thursday is simply asking for Friday.
❤️ The best way to appreciate your job is to imagine yourself without one.
❤️ On Wednesdays, when the sky is blue and I don't have anything else to do, I wonder if it's true that who is what and what is who.
❤️ Inspiration is one thing that cannot be controlled, but hard work is what keeps the ship afloat. Continue your good work.
Inspirational Wednesday Motivation Quotes
❤️ You can work a 9-5 job and still be the master of your own life. Choose your mindset on a Wednesday or any other day.
❤️ Success comes with a positive attitude toward success, and failure comes with a negative attitude toward failure.
❤️ "There is something seriously wrong somewhere when a day you happen to know is Wednesday starts off sounding like Sunday." – Sir John Wyndham
❤️ Allow Wednesday to bring a rainbow into your life.
❤️ Do not be ashamed of your failures; instead, learn from them and start again.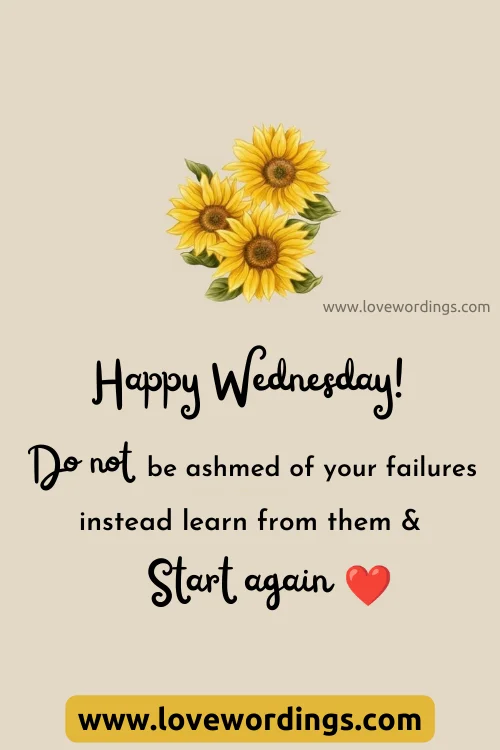 ❤️ "Every day, do something that scares you." Mrs. Eleanor Roosevelt
Read Also: 57+ Funny Wednesday Quotes Guaranteed to Make You Laugh
❤️ "On Wednesday afternoons, I can be almost anything." Kit Williams'
❤️ You must make the decision to be happy. Where you want to live. What do you want to drive. You must make a choice!
❤️ There won't be another today ever. Do good deeds. Make a new friend. Motivate someone. Spend some time thinking about others. Allow your words to heal rather than hurt.
❤️ I can only get through Wednesday by avoiding people who refer to it as Hump Day.
❤️ The difference between winners and ordinary people is that winners act despite their fear, whereas others only dream and take no action.
❤️ Wednesday is either going to make or break you. You are either on an upward or downward trend as the work week comes to an end. This Wednesday, give it your all!
Inspirational Hump Day Quotes
❤️ You have the ability to conquer the entire world! So, have faith in yourself and make the most of this day. Have a wonderful Wednesday.
❤️ A champion is someone who does not settle for the practice, competition, or performance of the day. They are constantly striving to improve. They don't dwell on the past.
❤️ "Many failures in life are the result of people who did not realize how close they were to success when they gave up." – Edison, Thomas
❤️ "It's pointless going back in time because I was a different person then." Lewis Carroll's
❤️ "Never give up on a dream because of the time it will take to achieve it. The time will pass regardless." – Titteey.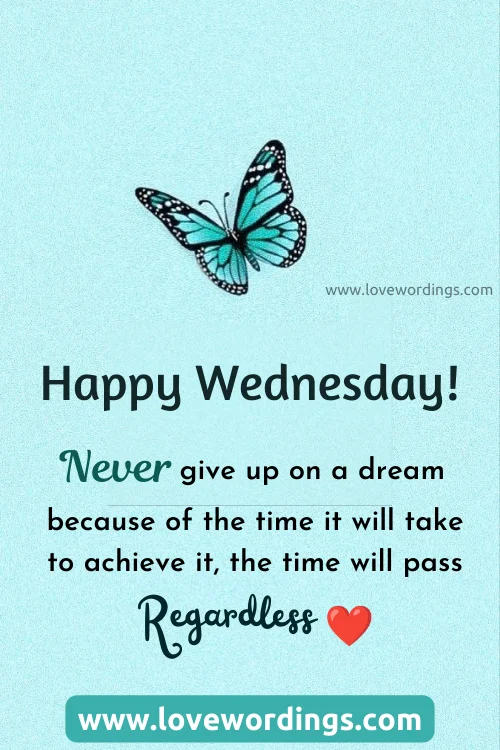 ❤️ Be unhappy. Alternatively, you can motivate yourself. It's always your choice what needs to be done.
❤️ Smart people learn from everything and everyone, average people learn from their experiences, and stupid people have all the answers.
❤️ "Making an impact, changing things, and leaving things better than you found them are all important aspects of life. The Obstacle Is You" – Munmi Sarma
❤️ Wednesday is a day to assist others in celebrating life. You are the only one responsible for what you extend and give to others. One smile not only increases your worth, but it also brings joy to everyone you meet. 
❤️ When you find yourself on the side of the majority, take a moment to reflect.
❤️ "They didn't want it good, they wanted it Wednesday." – Author Robert A. Heinlein
Inspirational Wednesday Quotes to Level up Your Week
❤️ There are times when we must set aside our emotions and simply go for it. Make today, Wednesday, one of those occasions.
❤️ "Never stop learning, never stop thinking, and never stop asking."
❤️ Happy Wednesday! Be content with who you are and what you can do.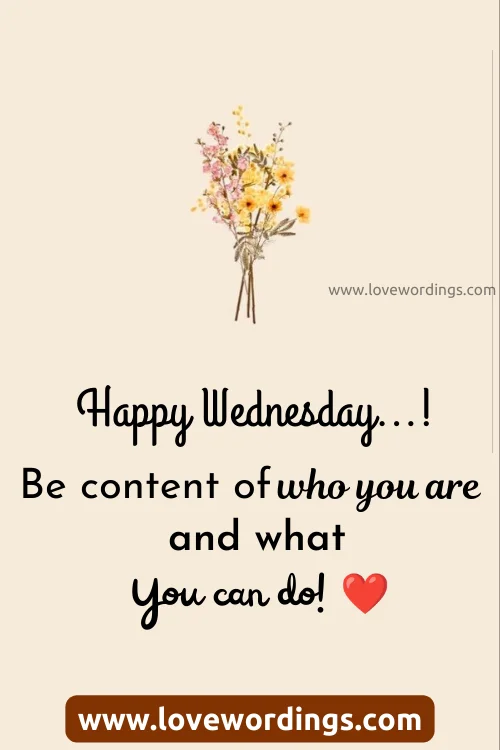 ❤️ What you get from achieving your goals isn't as important as what you become from achieving them.
❤️ You can dream about it or work to make it a reality.
Read Also: Uplifting Good Morning Wednesday Inspirational Quotes
❤️ "Just decide what it's going to be, who you're going to be, and how you're going to do it, and the universe will get out of your way from there." – Will Smith's
❤️ "Relax, Wednesday is hump day."
❤️ "Home may be where the heart is but it's no place to spend Wednesday afternoon." – Walker Percy
❤️ "You can either suffer the pain of discipline or the pain of regret. You have a choice."
❤️ "Wednesday: Almost the Weekend! "Have a wonderful day!"
❤️ I believe we are all capable of "achieving greatness," but the problem is that the majority of us do not want to put in the effort.
❤️ "Being strong means celebrating who you are, flaws and all." – Author Margaret Woodhouse
Inspirational Quotes About Wednesday
❤️ "Decide what you want and what you're willing to give up to get it. Set your priorities and get to work." Hunt, H.L.
❤️ Have a wonderful Wednesday! Give your love to everyone, have faith in the team to which you have been assigned, and do not harm others for the sake of self-gratification.
❤️ "It's the pebble in your shoe that wears you out, not the mountains ahead." – Muhammad Ali 
❤️ "Keep your head up, your chin up, and most importantly, keep smiling, because life is a beautiful thing with so much to be happy about."
❤️ "The primary cause of failure is that people do not develop new plans to replace failed plans."
❤️ "What you do today determines your future."
❤️ "Perfectionism is often the most dangerous enemy for writers and anyone else who wishes to achieve any goal in life." – Mr. N.C. Harley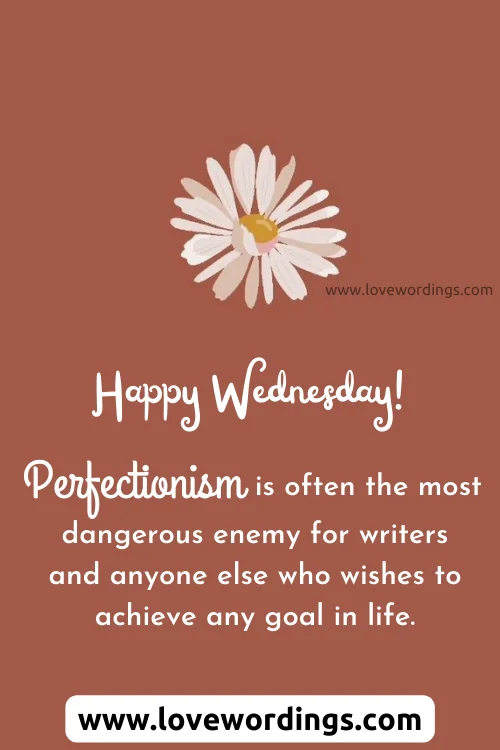 ❤️ "By Wednesday, work has become something to whine about. But, at the end of the day, you're earning a living and making money."
❤️ "Good morning, Fam! Today and every day, dream big, live courageously, communicate honestly, be mindful, act with kindness, and spread love!"
❤️ "Don't be afraid to give up the good in order to achieve the great." John D. Rockefeller, Jr.If most people consider Wednesday to be Hump Day, be the exception.
❤️ "When we strive to be better than we are, everything around us improves." – Paulo Coelho's
Inspirational Wednesday Wisdom Quotes
❤️ "Focus on good thoughts, and good things will happen. Stay positive this Wednesday. Think positive." 
❤️ "Optimism attracts happiness. Good things and good people will come to you if you stay positive."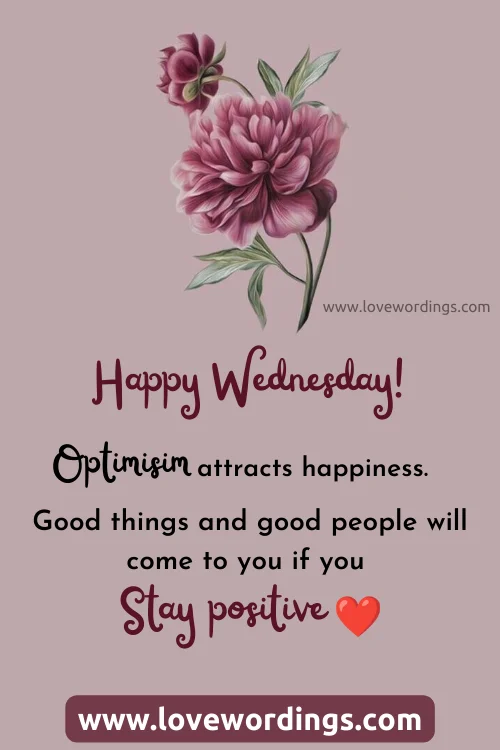 ❤️ "To achieve great things, we must not only act, but also dream, plan, and believe." – France, Anatole
❤️ Have a wonderful Wednesday! You are who you are; be content with your calling. Do not pretend to be someone else because your gifts are unique and will help you achieve the success that only you can define. Have a wonderful day. 
❤️ "Those who wonder whether the glass is half full or half empty miss the point. "The glass can be refilled."
❤️ "The strangest secret is that we become what we think about most of the time." – Nightingale, Earl
❤️ "You are the average of the five people with whom you spend the majority of your time." – Jim Rohn's
❤️ "Happy Wednesday!" Cast your love to all, have faith in the team to which you have been assigned, and do not harm others for the sake of self-gratification."
❤️ "We wear pink on Wednesdays." – Mean Girls
Final Words
Thanks for reading the "Inspirational Wednesday Quotes" article. The weekend countdown begins on Wednesdays. People are tired after working three days straight, and on a Wednesday, they seek words of inspiration to help them become inspired for the rest of the week. Hopefully, these Wednesday motivation quotes have inspired you to make it to the weekend.